Dear friends,
Many of us have stark memories of the 2016 election.  I have been recalling these days as we march toward the 2020 election.  And then I was walking down my road and found these sweet reminders perched on the neighbor's mail box.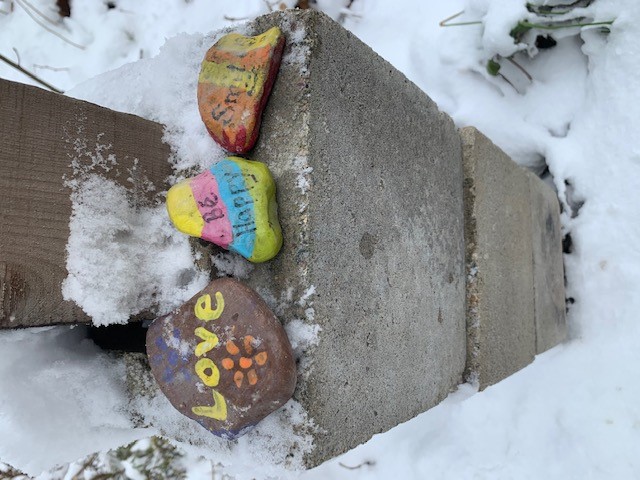 Love, Be Happy, Smile.  Reminders that this election is but a moment in our history, important for sure, but nonetheless, not nearly as important as is love, happiness, smiling.   We cannot deny that some of us are at greater risk than are others, we cannot deny our exhaustion, anxiety or hope.  And we can still hold onto love, happiness, smiling.
This morning, one of the Network's staff members was telling us a story about her young adult son's plans for watching the election returns.  It was a good reminder that this is just one moment in the long arc of our history.  That for her son and other young people, there is a perspective that gets lost for those of us who can count the number of Presidential elections in which we can expect to vote on two hands… or one.  That even in our anxiety about the future, we can find love, happiness, smiling.
And then there's this from the historian, Heather Cox Richardson:
"Democracy is rising…After more than thirty years studying our country's history, I have come to believe in American democracy with an almost religious faith.
…The future looks wildly exciting, full of different voices, races, abilities, religions, foods, gender identities, books, ideas, inventions, music, clothing, political identities, perspectives. In the past, when we have come through a period in which a small group of Americans has taken control of our society and ordinary Americans have taken it back, industry, art, science, and civil rights have blossomed. For my part, I don't expect to like everything that happens in such a fertile world, but I do expect to learn, and grow, and feel privileged to watch the construction of a world that reflects our people at their best."
Because there is always hope.  Not the kind of hope we had when we were kids – "I hope I get a pony for my birthday" - brand of hope.  I am talking about the kind of hope that includes the vibrant story about the world we seek; the kind of hope that tells us we have all we need to create that world; the kind of hope that insists that we fight for what we love rather than that which we despise.  The kind of hope that comes from the realization that you and I are "we" and this growing we is being activated by this moment in the long arc of our history.  We are the ones needed right now and we are the ones who will make it so.
In community,
Karen Tronsgard-Scott, Executive Director